Association President Introduction
The Yemeni Friendship and Cooperation Association in Turkey was the first nucleus of Yemeni institutional work in Turkey, as its launch in February 2014 was the starting point. and enabling it to achieve development with steady steps and strategic plans according to objectives. Samia, where the human being is the real wealth and the main pillar in the process of sustainable development of any human society, and the main element in facing all current and expected challenges in various work sectors and areas of community development; The focus was on education and knowledge and skills rehabilitation, to build capacities and produce outputs that contribute to the development of society, and to the promotion of its value and cultural identity. They contributed to providing material and moral support, and they had their pioneering fingerprints in many of the achievements The Association, and thanks are extended to those who had the precedent in establishing the Association, and the impact on its management during the previous periods, and we all hope for more cooperation, integration and partnership to achieve community development and bring about a sustainable impact.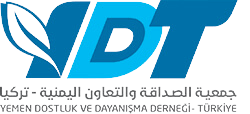 About Us

Our Mission

Our Vision

Our Values
Yemeni Friendship and Cooperation Association
An independent, non-profit civil society organization, headquartered in Istanbul. It was established on (14/2/2014 AD), as the first Yemeni association in Turkey, and operates under license No. (2349), issued by the Directorate of Associations in the General Administration of Istanbul Governorate - Turkey. It is concerned with building and empowering people, in order to achieve a sustainable impact on society, efficiently and effectively, in accordance with international quality and excellence systems. It is recognized by official and regional bodies, and it has many regional and international partnerships.
Our Mission:
We work to build people and enable them to live in dignity, through the implementation of development programs and community initiatives of value and sustainable impact, and the establishment of effective cooperation and partnership relations, with the optimal investment of our expertise and resources, in keeping with the times, according to the best practices and standards of institutional work.
Our Vision:
The leading model in building people and enabling them to achieve comprehensive development with a sustainable societal impact
Our Values :
excellence
the quality
partnership
Transparency
Affiliation
An introduction film to the association